by Andy Nowak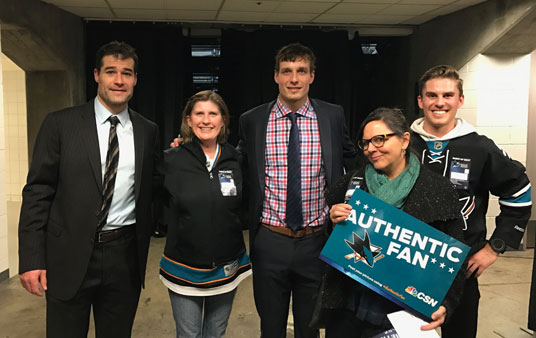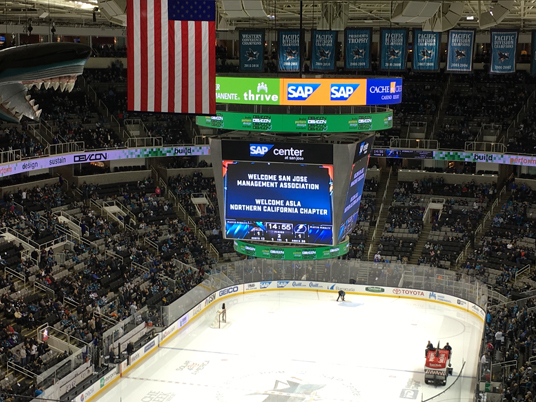 If the ASLA-NCC Sharks Game was a success last season, then you could call this year's Sharks Night a slap shot, 5-hole, sellout! The game was indeed a sell-out for ASLA-NCC which included members from the event's generous sponsors: Belgard, Coldspring, Landscape Forms, Miracle Playsystems, Park West Landscape Construction, and Delta Bluegrass??
Everyone who went to last year's Sharks Night had high expectations for this year, and we were able to not only meet these expectations but continue the tradition of memory making. This year we had the privilege of watching Sharks players warm up before the game and skate through the shark head during the opening ceremony, all from our views inside the Penthouse Plaza. Our seats were conveniently located next to the Penthouse Plaza allowing us to stand and socialize or enjoy our food and beverage. Some even munched on the free popcorn provided for popcorn night, while others dared to try the Shark-arita cocktail, a teal colored margarita. It was a spirited event, a time to catch up with friends and colleagues or meet new faces, and complimented by an exciting game. The sharks scored first, getting everyone out of their seats to cheer, only to be silenced 2 minutes later from a Lightning equalizer. The third period then started with the fog horn blowing 22 seconds into the period signalizing a Shark's score, and later confirming a sharks victory! After watching this game and the few who were able to visit the locker room to meet and congratulate the Shark's players on a well deserved win, our hopes are soaring for another Western Conference Championship, and possibly the first Stanely Cup Championship in San Jose Sharks history! Knock on wood.
If you weren't able to make it to this year's Sharks Game, we hope to see you this summer at the SF Giants Night or the following winter season! This south bay event is the second year in the making, and will hopefully continue as a memorable tradition.