Northern California Chapter of the Historic American Landscapes Survey (HALS)
We promote the documentation, preservation, and enjoyment of historic landscapes in California.
2023 HALS Challenge: TBA
Each year ASLA National issues a challenge for members to document a cultural landscape. The theme is announced at the ASLA national conference, right after they announce the winners of that year's challenge. Participants then have until July 31st to submit. Click here for information about the current year's challenge.
"The Historic American Landscapes Survey (HALS) mission is to record historic landscapes in the United States and its territories through measured drawings and interpretive drawings, written histories, and large-format black and white photographs and color photographs. The National Park Service oversees the daily operation of HALS and formulates policies, sets standards, and drafts procedural guidelines in consultation with the American Society of Landscape Architects (ASLA). The ASLA provides professional guidance and technical advice through their Historic Preservation Professional Practice Network. The Prints & Photographs Division of the Library of Congress preserves the documentation for posterity and makes it available to the general public."
IN MEMORY OF CATE BAINTON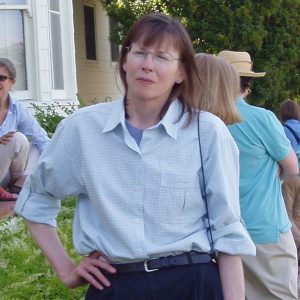 Cate Bainton was a huge contributor to HALS Northern California and a major component of what you still see now on these pages. Not only did she volunteer to create and maintain the chapter's website (which has since been archived and integrated into this one), she created and organized the HALS documentation spreadsheet. When we first began, she received the list of site names and then researched everything that would be needed and entered it into a spreadsheet, providing the name, location, owner and a short description of the site with year of construction and notes about the designer. For the past 17 years she had maintained this spreadsheet and added HALS numbers as documentation when completed. Read Cate's entire bio here.
The Chapter has approximately 100 members including arborists, community activists, enthusiasts, landscape architects, landscape historians, students, and writers. Membership is free. If you are seriously interested in historic landscapes, please join us and get involved.