Our Mission
To advocate, to lead, to educate, and to participate in the careful stewardship, wise planning,
and artful design of cultural, natural and/or the built environments for human enjoyment.
The American Society of Landscape Architects (ASLA) is a national professional organization representing 17,000 landscape architects. ASLA has 48 state and regional chapters; the Northern California Chapter (NCC) is one of four chapters that represent California.
The Northern California Chapter represents more than 650 landscape architects at the local level. The purpose of ASLA is to advance the profession of Landscape Architecture in the eyes of the general public. The Chapter is the main advocacy body to advances the profession on the local level by holding events, meetings, outings and providing information regarding the profession to the local media and schools. The Chapter may also interface with municipal governments regarding local issues that could impact the profession, or the public realm.
The early visionaries in the profession of landscape architecture noted that the designs of outdoor spaces are created for recreation, inspiration, and essential respite from the emerging urban environment. City parks and green spaces within the urban environment, along with private residential gardens, helps to improve physical and psychological health, strengthen our communities and make neighborhoods more attractive places to live and work. The profession enhances the outdoor environment for both private and public enjoyment. ASLA and its members are at the forefront of efforts to increase respect for the land and our natural environment, particularly on issues of prudent land use and planning, urban design, sustainable development, waste and water management including stormwater, resource preservation, recreation, and land reclamation.
ASLA's mission is is to lead, to educate, and to participate in the careful stewardship, wise planning, and artful design of our cultural and natural environments. It is a professional peer association that operates on two levels-national and local. As such, your exposure to resources, and the benefits you can take advantage of by being a member, is essentially doubled. You can tap into the vast source of information and assistance of the National organization which is available to you mainly, but not solely, through the ASLA website. You can also find professional information and expertise relevant to you regionally through events, announcements, and most importantly, through personal connections at your local Chapter.
The most important role ASLA takes on for you as a landscape architect or designer, is legal advocacy for the profession on the federal (National) and state (local Chapter) levels. ASLA is doing a lot of work behind the scenes, whether you know it or not, that directly affects you and your livelihood. Without ASLA's persistent, timely and unwavering effort, landscape architecture as we know and practice it, would not be able to stand up to recurring state sunset laws and federal restrictions.
At the end of last year, thanks to a massive ASLA campaign, the Senate rejected amendments to gut the Transportation Enhancements bill; in May congress introduced the Safe and Complete Streets Act; and in 2010, ASLA achieved licensure in all 50 states for the first time in the history of the profession.
It is unfortunate, but we, landscape architecture professionals, constantly need to defend our passion and our means of making a living. It is most effectively done in an organized way, and ASLA is the perfect forum for us. By being an ASLA member you support this effort. By being a member you also have a chance to participate in this effort actively… ..it is not an obligation, it is a great opportunity.
The second most important endeavor ASLA carries out for you is public awareness of Landscape Architecture. Aren't you tired of being called a Landscaper? Does it not aggravate you when an architect asks you to put some "growies" around the building? Don't you feel awkward when, upon learning your line of work, your neighbor's friend asks if you would clip their hedge? Apparently, as professionals, we have not been doing enough to tell the world what we do, what we are capable of doing. We have not explained clearly enough the breadth of expertise our work encompasses. As professionals, we have not established our credentials strongly enough, or began to outline the important role we play in people's public and private lives. ASLA is currently orchestrating a massive grassroots public awareness campaign, that is giving the profession more visibility and recognition. ASLA is the vehicle to set our status right; you are the fuel.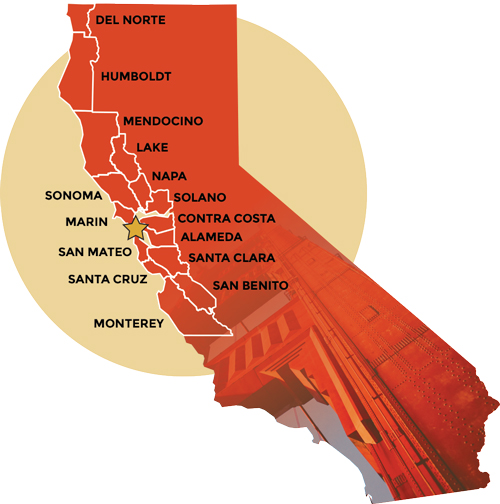 Volunteer Opportunities
ASLA-NCC is a volunteer-powered organization. We work to bring value to our members by advocating for our profession, communicating news of interest, honoring our members' accomplishments, and networking with each other and with colleagues in allied professions. ASLA-NCC is a direct reflection of its members. If you see something lacking or an area that can be improved, we welcome your involvement. Contact us to participate in ASLA-NCC committees and activities.
Contact Us
ASLA Northern California Chapter
3130 Balfour Road
Suite D #275
Brentwood, CA 94513
P: 415.974.5430
ASLA National
636 Eye Street, NW
Washington, DC 20001
P: 202.898.2444
Position Open
Awards Chair
Arturo Fuentes-Ortiz
JEDI Chair
Monique Bassey
President's Reception Co-Chair
Thea Yang
Emerging Professionals Chair
Charlie Yue
Lectures Chair
Briana Morrison
PR/Communications/Newsletter Chair
Amy Cupples
Fellows Co-Chair/Giants Night Co-Chair
Krista Van Hove
Membership Chair
Tala Fatolahzadeh
Sharks Hockey Night Chair
Elizabeth Boults
Fellows Co-Chair / Giants Night Co-Chair
Siobhan Hussey
President's Reception Co-Chair
Blake Sanborm
Stewardship/Sustainability
2020-21 Krista Van Hove
2019-20 Katrina Majewski
2018-19 Blake Rhinehart
2017-18 Carolyne Orazi
2016-17 Elizabeth Boults
2015-2016 Marybeth Harasz
2014-2015 David W. Nelson
2013-2014 Amy Cupples
2012-2013 Sarka Volejnikova
2011-2012 April Philips
2010-2011 Mitch Wilks
2009-2010 Ann Baker
2007-2008 Ive Haugeland
2005-2007 Jeff George
2004-2005 Chris Kent
2003-2004 Sarah Sutton
2002-2003 Michael Scheele
2001-2002 Dwight DeMay
2000-2001 Richard Macias
1999-2000 Larry Wight
1998-1999 Glen Rock
1997-1998 Bob Sena
1996-1997 Dave Mitchell
1995-1996 John Wreschinski
1994-1995 Bob Sena, Rich Seaforth
1993-1994 Brian Gatter
1992-1993 Michael Fotheringhamv
1992-1993 Tim Coppola
1991-1992 Brooks Kolb
1990-1991 Eldon Beck
1989-1990 Carrie Dana Lux
1988-1989 Gary Mason
1987-1988 Dan Svenson
1986-1987 Dan Svenson
1985-1986 Lucile Biesbroeck
1984-1985 Patrick Miller
1983-1984 Kent Watson
David E. Arbegast, FASLA
Cheryl L. Barton, FASLA
Eldon W. Beck, FASLA
Yoshiro Befu, FASLA
Achva Benzinberg Stein, FASLA
Rene Bihan, FASLA
Cathy Deino Blake, FASLA
David H. Blau, FASLA
Michael Boland, FASLA
Joseph E. Brown, FASLA
William B. Callaway, FASLA
Andrea C. Cochran, FASLA
Kevin Conger, FASLA
C. Christopher Degenhardt, FASLA
Douglas Findlay, FASLA
Bonnie Fisher, FASLA
George W. Girvin, FASLA
Susan Goltsman, FASLA
Adam Greenspan, FASLA
Asa Hanamoto, FASLA
Nancy M. Hardesty, FASLA
James Heid, FASLA
Glenn O. Hendrix, FASLA
Ronald M. Herman, FASLA
Randolph T. Hester, Jr., FASLA
Robert Hewitt, FASLA
Mark Hollinger, FASLA
David Howerton, FASLA
Daniel Iacofano, FASLA
Linda Lee Jewell, FASLA
Mary Margaret M. Jones, FASLA
Kenneth J. Kay, FASLA
Harold Nob Kobayashi, FASLA
Owen C. Lang, FASLA
Tom Leader, FASLA
Hui-Li Lee, FASLA
James Lee, FASLA
Karl Linn, FASLA
John Loomis, FASLA
James Lord, FASLA
Ron Lutsko, FASLA
Jacinta McCann, FASLA
E. Byron McCulley, FASLA
Gavin McMillan, FASLA
David B. Meyer, FASLA
Patrick T. Miller, FASLA
Margaret E. Mori, FASLA
Michael Painter, FASLA
Chris Patillo, FASLA
April J. Philips, FASLA
Tito Patri, FASLA
Robert Sabbatini, FASLA
Paul Edward Scardina, FASLA
Hamid Shirvani, PhD, FASLA
Scott G. Slaney, FASLA
Gary L. Strang, FASLA
Chip Sullivan, FASLA
David P. Thompson, FASLA
David Walker, FASLA
Peter E. Walker, FASLA
John L. Wong, FASLA
Roderick Wylie, FASLA
Lindsey Yuen, FASLA