If you have been to a game with ASLA-NCC you would know these events aren't your average sports viewing experience, but instead opportunities to make memories that will last a lifetime! From all the effort that is put into the social before the game to the bonus activities after, the event is always well worth your time. If you had a chance to go last season's Giants game, but weren't able to make it out for this event you definitely have something to add to your bucket list for next year!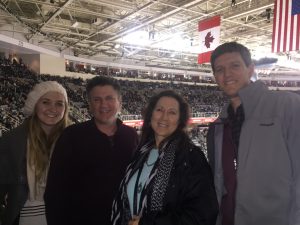 Upon entering through a VIP entrance at the SAP arena you knew this event was going to special. To build on that excitement we had to walk down the same hall that the players use in order to get to the reserved banquet room. Once you arrived there you were greeted by an endless taco bar, a personal bar tender, and all the other Landscape Architects that had traveled from near and far. This atmosphere provided the perfect setting to catch up with colleagues, old classmates, and even gave you a chance to exchange business cards with some new faces. The Cal Poly San Luis Obispo grads won for highest attendance, MPA won for furthest distance traveled, and Stanford won for highest office attendance. Despite how big your group was or who you came with everyone had a great time.
The game itself was a knockout as well. The Sharks had a killer victory over the Colorado Avalanche with a final score of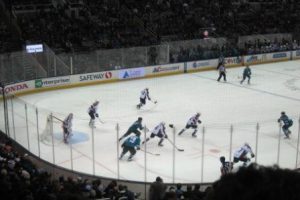 6-1, which is very rare to have such a high scoring game in the major league. Each winning goal gave everyone an excuse to bond as they cheered, while the victory siren went off and the giant shark head suspended over the arena fogged at the mouth. It was a very fun game. There were even a select few that got to go down to the locker room exit at the end to get autographs from their favorite players and congratulate the Sharks are their record breaking victory!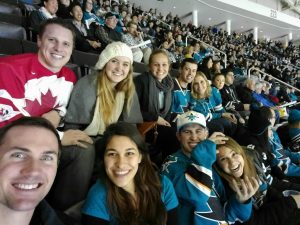 We hope you can come out for the next ALSA-NCC event and bring your coworkers, classmates, and friends for an unforgettable night of memory making and excitement. And to top it off, the Caltrain station is directly across the street from the stadium making travel as easy as possible.