ASLA-NCC participated in the annual international PARK(ing) Day event, which was on Friday, September 15, 2017. With much support and encouragement from the ASLA-National PARK(ing) Day campaign, the Northern-California chapter successfully included many different PARK(ing) spaces.
For the first time ever, our chapter collaborated with the local AIA-San Francisco Chapter, sharing information on PARK(ing) happening throughout Northern CA. These were added to the ASLA-NCC interactive map.
The map provided users information on the PARK(ing) space like the firm/company name, and description or theme, as well as navigation. In San Francisco, there were ten (PARK)ing Day spaces located a close distance to each other, allowing an easy walk to explore and interact.
Some of this year's PARK(ing) Day participants based their design off a theme, collaborated with other teams, and included items and structures that were constructed from donated materials.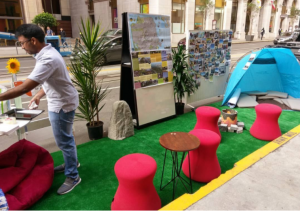 AECOM (Park)ing Day space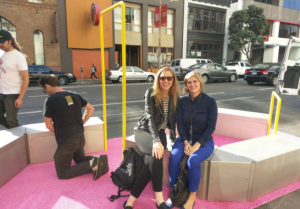 (one of the) SF MOMA PARK(ing)Day spaces
This year, we had thirteen participants on the map, and hope to have even more next year.