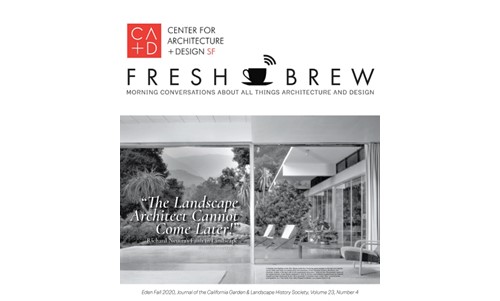 Fresh Brew #2 Creative Synthesis: Neutra's Prescient Quest for Architectural Well-Being
May 19, 2022 @ 9:00 am

-

10:00 am
devoted to expanding our understanding of the legacy of Viennese-American architect, Richard
J Neutra FAIA (1892-1970). His reconsidered legacy is especially relevant in today's context,
where environmental, social, and human health issues are taking center stage.
Last month at Fresh Brew #1 Gary Strang FASLA/AIA introduced Dr. Raymond Richard Neutra
who spoke about his new book Cheap and Thin: Neutra and Frank Lloyd Wright. Cheap and Thin is about the unique influences which led Neutra to be included in the 1932 International Style Exhibition at the NY MoMA, and ultimately resulted in him being seen as the godfather of mid-century modernism, a unique form of the international style that is particularly suited to the
climate and lifestyles of Southern California and is now ubiquitous throughout much of the
world.
In Fresh Brew #2 on May 19th, Architectural Historian and Neutra Scholar Dr. Barbara
Lamprecht and Environmental/Design Psychologist Dr. James A. Wise will discuss how Neutra's lifelong pre-occupation with psychology, neuroscience, evolutionary biology, horticulture, and landscape distinguished his architecture from that of his modernist peers. Although he embraced technology, he was more concerned about human well-being; his ideology was rooted in nature, rather than 'modernity.' It is noteworthy that Dr. Lamprecht, arguably the most knowledgeable scholar regarding the work of Richard Neutra, completed her dissertation explicating his philosophy of biorealism and has recently published an important article in the journal Eden titled "The Landscape Architect Cannot Come Later!": Richard Neutra's Faith in Landscape.
ASLA Members apply promo code: Neutra22p to reveal the AIASF Community Partner discount rate.
Share This Story, Choose Your Platform!