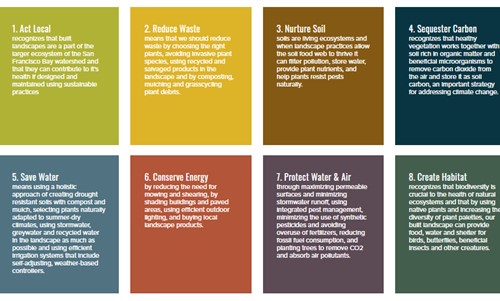 ReScape Design Qualification Training (DQT)
September 15 @ 9:00 am

-

3:00 pm

|

$545
Course Dates
Tuesday, September 15, 2020, 9am – 3pm
Thursday, September 17, 2020, 9am – 3pm
Tuesday, September 22, 2020, 9am – 3pm
This 3 day course will be presented in a live, online webinar format.
ReScape Clifornia's Landscape Training & Qualification Program launched in 2007 as the "Bay Friendly Training & Qualification Program." Since then the training has grown and evolved, including merging with EcoLandscape California's Green Gardener Pro training program in 2017. The combined programs have graduated over 2,000 experienced landscape professionals who are putting regenerative landscaping practices to work every day.
Based on ReScape's 8 Principles, this training provides landscape design professionals with practical tools for designing and constructing healthy landscapes that protect local watersheds, conserve resources and address our changing climate. Participants will learn about regenerative landscape practices from leading experts in soil health, stormwater, plant selection, integrated pest management, and more. The Design Qualification Training also provides in-depth information about our Rated Landscape Program and serves as a pre-requisite for becoming a ReScape Rater.
The Design Qualification Training is offered as a 3-day course and provides design professionals with:
Understanding of ReScape's ecologically based, whole systems approach to the design and construction of public and private landscapes
Technical information for meeting local and state landscape ordinances and policies
Information about habitat restoration, local plant communities, and the benefits of biodiversity
Interactive experiences with practical, effective techniques such as sheet mulching, building living soil, and irrigation installation
Recognition of the global connections between soil health, waste management, water conservation, air and water quality, greenhouse gas reduction, urban forestry, and carbon sequestration
Competitive advantage as a ReScape Qualified Professional in the landscape design marketplace
Prerequisite to apply to be a ReScape Qualified Rater
Continuing Education Units for external certifications and qualifications from the Association of Professional Landscape Designers (APLD), International Society of Arboriculture (ISA), Qualified Water Efficient Landscaper (QWEL) and more*