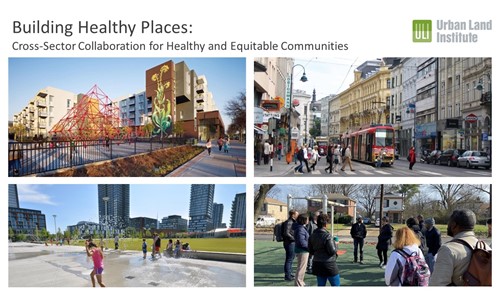 Lunch with Leaders Industry Icons Building Healthy Places: Cross-Sector Collaboration for Healthy and Equitable Communities with Sara Hammerschmidt
March 10, 2021 @ 12:00 pm

-

1:00 pm
The COVID-19 pandemic has illuminated a public health crisis that has existed for decades. Rising rates of chronic disease, which can be partially attributed to the design of our built environment, have exacerbated the impacts of infectious disease on many segments of our population. This discussion with Sara, will explore the role of land use professionals in creating healthy and equitable buildings, neighborhoods, and cities. Programs of ULI's Building Healthy Places Initiative are focused on cultivating leadership for healthy places, partnering with other membership organizations—including the American Society of Landscape Architects—to promote health and equity locally, and providing technical assistance to communities that are striving to create equitable access to housing, parks and open spaces, and transportation options. Truly healthy places will take collaboration between landscape architects, architects, planners, developers, public health professionals, and residents, and this collaboration must be centered on how equitable conditions can be created through built environment interventions.
Sara Hammerschmidt
Sara Hammerschmidt is Senior Director, Content at the Urban Land Institute, where she develops content and programs focused on the impact of the built environment on public health through the Building Healthy Places Initiative. Throughout her career, Sara has done extensive work on issues that lie at the intersection of health and the built environment.
Previously, she worked at PolicyLink in Oakland, California, researching the inclusion of social and economic equity into projects, plans, and policies that are being implemented at the intersection of health and the built environment. Sara has spoken on the topics of Health Impact Assessment, the role of urban planning in creating healthier cities, and recommendations for incorporating health into all built environment decision making at several national conferences.
Sara holds an M.S. and Ph.D. in Community and Regional Planning from the University of Texas at Austin, where her research focused on developing recommendations for how planning departments across the country can incorporate public health considerations into their work. She also holds a B.S. in Industrial Operations and Engineering from the University of Michigan and worked for eight years in the technology industry prior to graduate school.
Share This Story, Choose Your Platform!