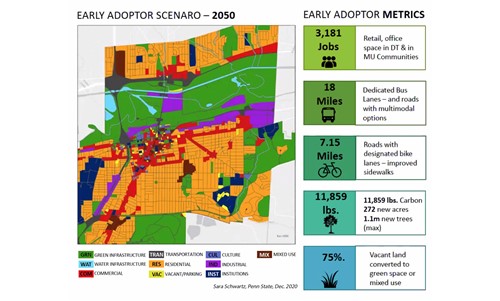 Lunch with Leaders Industry Icons Webinar My Journey from Empowering Communities to Geodesign with Kelleann Foster
February 10 @ 12:00 pm

-

1:00 pm
From my earliest days in private practice I was frustrated with how poorly conceived land use regulations "straight jacketed" my design work; I knew there had to be a better way to design communities. This has proven to be a driving force in my career and a key reason I sought to devote my life to teaching and research. My work is rooted in smart-growth design approaches
that seek to improve quality of life and respect place, including interactive visualizations of codes and policies so decisionmakers can actually see the   potential impacts of their choices. Throughout, I have endeavored to empower people. I am excited to share how I have pursued these goals via a variety of unique, technology-enabled projects, and my more recent focus on
Geodesign, which is a dynamic gamechanging strategy to make a positive difference in community design and planning.
Kelleann Foster, RLA, ASLA
Professor Foster is a registered landscape architect whose work is rooted in outreach that is interdisciplinary and forward-thinking. Kelleann is the Director of the Online Geodesign Graduate Programs at Penn State, and a Professor in the Landscape Architecture Department. She has 35 years of professional practice experience as a landscape architect and 30+years teaching at Penn State. A sabbatical, based at Esri, provided evidence to move forward in establishing Penn State's wholly online graduate programs   in Geodesign through engaging students in a collaborative, virtual studio environment.
The programs include a Graduate Certificate in Geodesign, and a Master in Professional Studies in Geodesign – all offered entirely online.
This innovative format is enabling students from across the globe to successfully complete their studies in their free time and  without relocating.
Kelleann has introduced Geodesign to thousands worldwide via her MOOC "Geodesign: Change your World." Her work, recognized nationally and internationally, advances technologies to communicate alternative scenarios to citizens. She is also author of the Wiley book "Careers in Design: Becoming a Landscape Architect."